Superfood Skin Glow Gummies
Regular price

$27.00

Sale price

$25.00
For months during pregnancy, many moms are on the receiving end of "oh you have that pregnancy glow" compliments.  
After delivery, when hormones and estrogen drop, skin is left looking a bit lackluster as melasma remains, breastfeeding intensifies dehydration; and tiredness and stress begin to age the skin more rapidly.
These factors along with deficiencies that come with the rush of new motherhood and simply "mom-life" can promote irregular cell turn over resulting in dull+ tired-looking skin.  Additionally, the skin barrier can suffer; leading to more dry+ irritated looking skin.  
The Baby Blues SKINGLOW antioxidant superfood gummies are a delicious way to achieve hydrated, visibly glowing skin from within… after baby and beyond. 
SKINGLOW features easily absorbed superfoods and super antioxidants including Acai Berry, Acerola Cherry, European Gooseberry, Pomegranate, Goji Berry, Banana, Apple, Beet Root, Peach, Papaya, Cranberry, and Mango.   
After delivery and as we age we lose vitamin C in both the dermis and epidermis layers of the skin.  Our delicious raspberry-watermelon flavored SKINGLOW star gummies help counter that loss with its formula, containing both Vitamin E and Vitamin C to help you achieve that radiant glow.
The Baby Blues SuperFood Blend benefits include:
Acai Berry - containing powerful antioxidants that neutralize free radicals and assist in the body's cell protection system
Acerola Cherry- with antioxidant effects it helps control the spread of bacteria and other microbes, aiding in the reduction of breakouts and blemishes, loss of skin elasticity, and signs of sun damage. The high vitamin C content of acerola supports the body's ability to build collagen and heal wounds.


European Gooseberry- antioxidants promote softer, plumper skin +allows for better vitamin C absorption: defying early aging, fine lines, dark spots, and wrinkles.


Pomegranate- helps prevent hyperpigmentation and age spots while promoting smooth, soft skin. Pomegranate is a great choice for breastfeeding moms who feel dehydrated.

 

Its small molecular structure allows it to penetrate deeply; hydrating the skin more quickly and effectively.

 

 


Goji Berry- is a solid source of skin-beneficial fatty acids, including palmitic, oleic, and stearic, all of which help hydrate skin and enhance its barrier. For age and sun spots, Goji berry decreases pigmentation production, improving skin tone to be more clear and evenly toned.


Banana- hydrates our skin and prevents it from drying throughout the day


Apple- collagen and the elastin in apples are vital for keeping skin youthful in appearance. Apples work effectively to benefit your skin by getting rid of the pathogens and the excess oils. 


Beet Root-

 

encourages collagen production in the body essential for hydrated healthy skin. Beetroot helps to strengthen the skin around the hair follicles and is often supplemented to prevent hair loss for moms. 


Peach- A great source of Vitamin C, peach helps to minimize dark circles and blemishes. Its macronutrients also help in eliminating wrinkles, tightening pores; giving tired skin a boost by removing dead skin cells and regenerating skin tissues.


Papaya-

 

neutralize free radicals, synthesize energy, and heal damaged skin tissue.


Cranberry- rich in antioxidants cranberry helps to carry the oxygen and nutrients to the skin that makes our skin soft, glowing, and firm


Mango- loaded with a type of antioxidant called mangiferin that helps protect your body from cellular damage. Powerful antioxidants found in mango help prevent premature aging.
Our bottle comes with 60 pieces with a suggested serving size of 1-2 gummies a day. Results are best seen in 4–6 weeks.
While made for New Moms the Baby Blues SKINGLOW superfood vitamin is not limited to those who have given birth. Many of our customers have improved skin tone and glow, while not being considered postpartum. Our vitamin is soft, chewy, and incredibly delicious + Gluten-Free + Non-GMO + Gelatin Free + Raspberry Watermelon Flavored
Share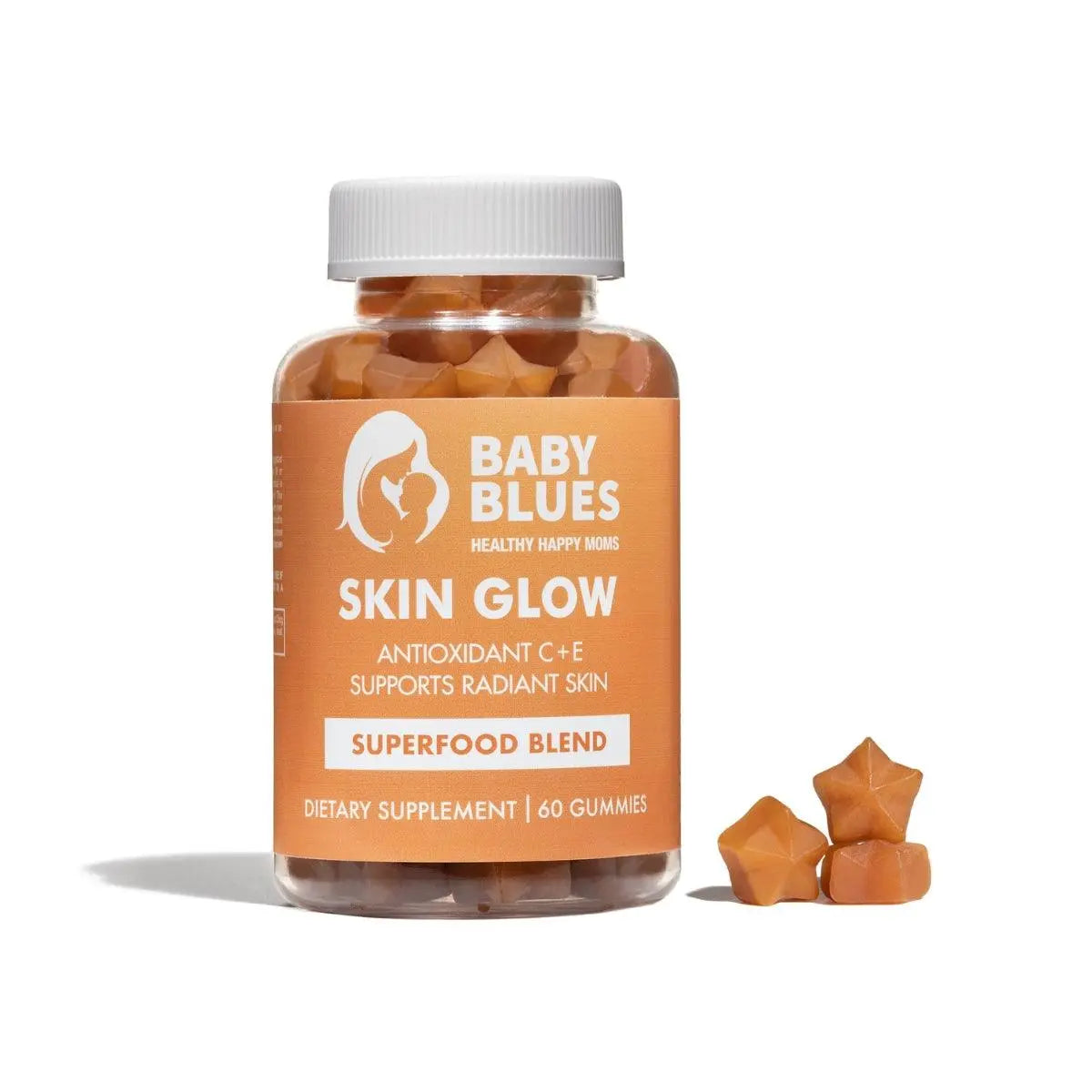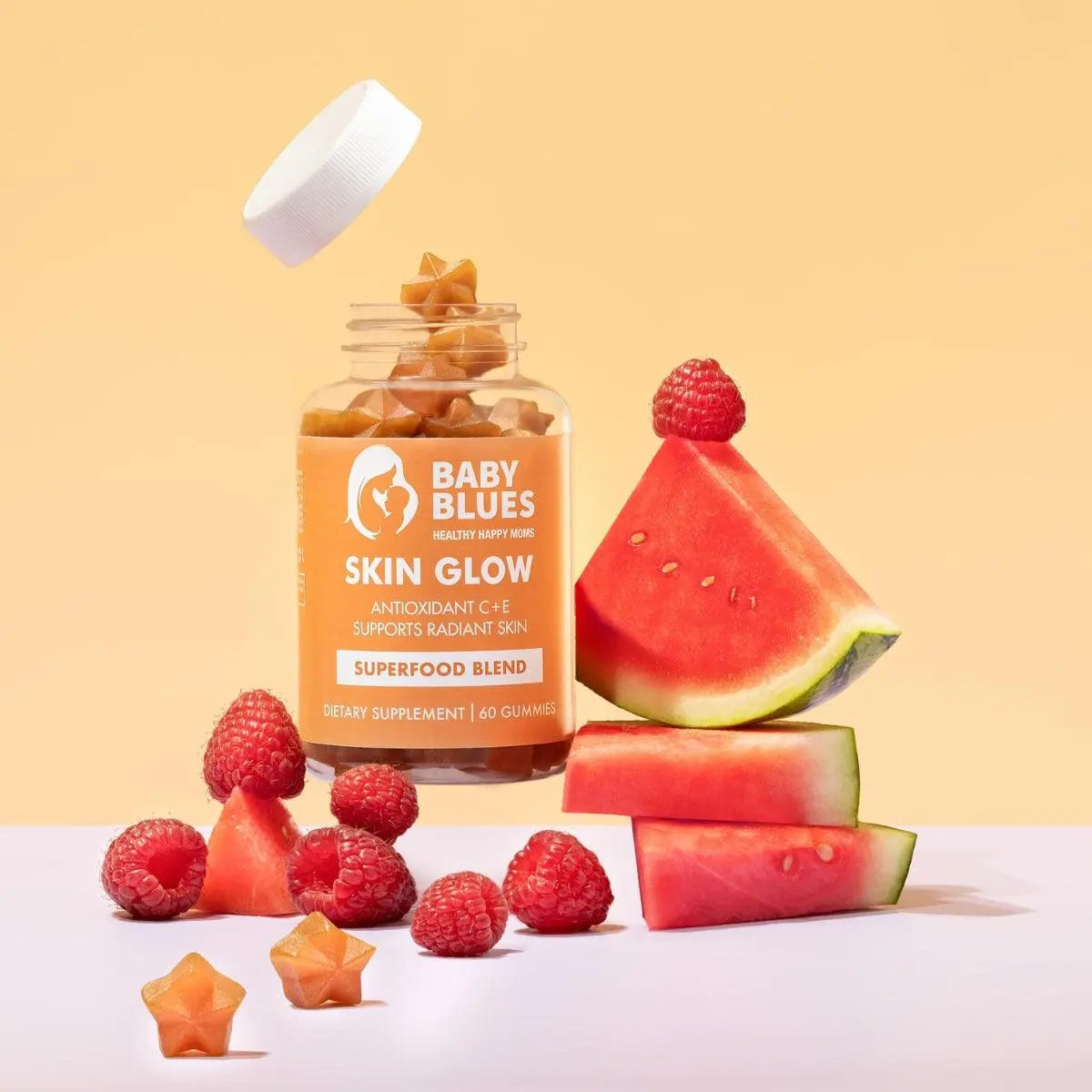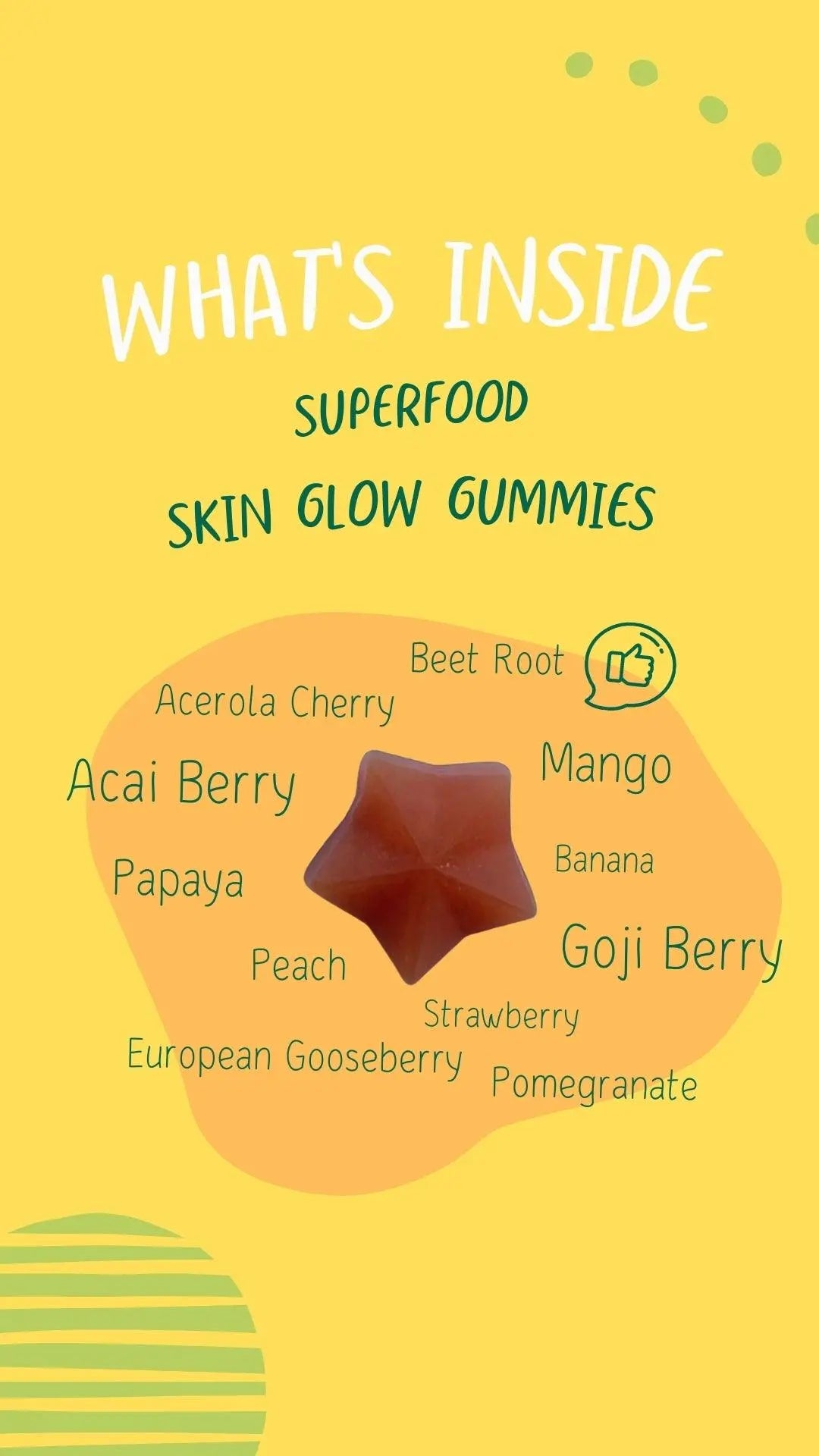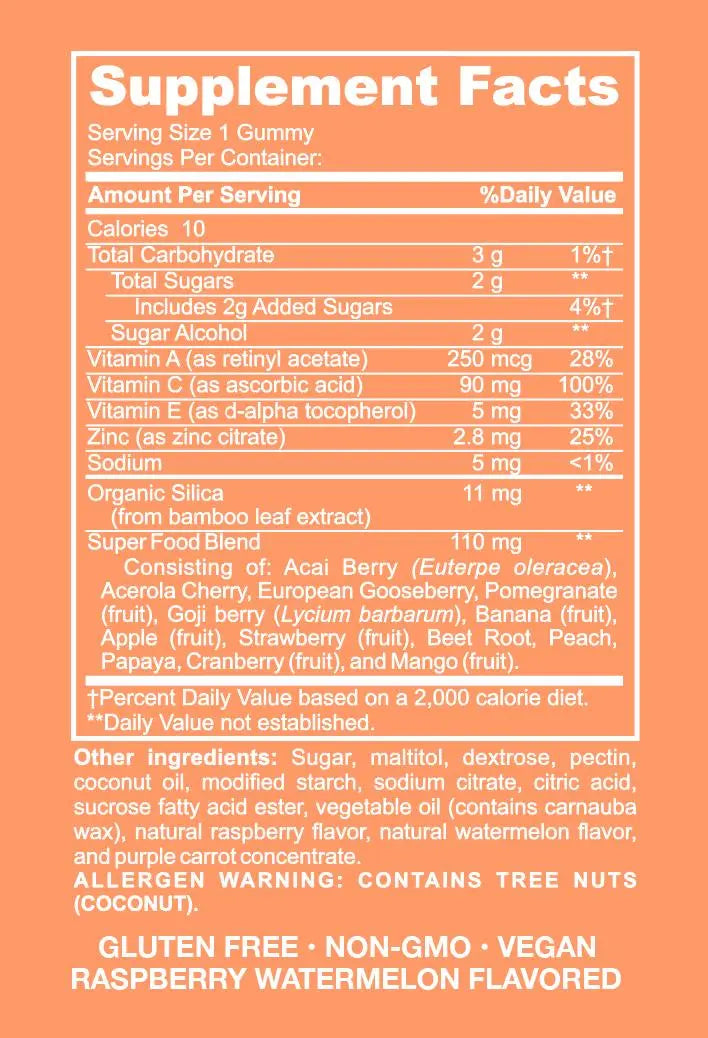 FAQs
Where do you ship?

We are proud to ship throughout the US and internationally from Honolulu, HI! For our shipments, we use priority shipping through USPS. You can track your package from when it leaves us through its final destination.
Follow us on Instagram!

We share tips and feedbacks from moms. Who knows, you might even win a giveaway or two?

@babybluescare

From our blog

Real life motherhood experience and tips!

Read more