Specifically formulated for Postpartum Hair Loss
Giving Birth is Hard but what comes next isn't much easier
Your body is craving vitamins and minerals in order to restore your healthy hair. Our carefully formulated vitamin replenishes lost nutrients to promote hair growth and decrease shedding.
Postpartum Hair Vitamins
Regular price

Sale price

$33.00
Postpartum Hair Loss occurs to some degree for 90% of new moms. Just as women experience thicker hair during pregnancy due to increased hormones and estrogen levels, most will experience shedding and hair loss about three months after delivery, as those levels quickly drop.  The good news is with Baby Blues postpartum hair vitamins you have a tool to minimize the period of hair fall and accelerate new growth. 
Key Ingredients

Our goal is to restore nutrients your hair needs into the hair cycle and increase your hair growth while improving the texture of hair. To do that we've included vitamins to promote healthy and strong hair. 

Baby Blues is made with:

Biotin: to maintain and support healthy hair growth by stimulating keratin production in hair and increasing the rate of follicle growth. 
Collagen: to build and increase hair proteins (keratin) and strengthen the skin that contains your hair roots. This leads to longer and thicker hair.
Vitamin C:  a powerful antioxidant that nourishes the hair and helps the body absorb iron which is essential for hair growth.
Zinc and Folate: to provide essential hair nutrients and sustain healthy hair longer. Zinc  plays an important role in hair tissue growth and repair. Additionally, Zinc keeps the oil glands around the follicles working properly.
Vitamin A: essential for cell growth. Also helps skin glands make sebum.  Sebum moisturizes the scalp and helps keep hair healthy. 
B12: to promote healthy hair growth by assisting in the production of oxygen-rich red blood cells, which feed hair follicles.
Vitamin D: stimulates new and old hair follicles.  When there isn't enough vitamin D in your system, new growth can be stunted. 
Vitamin E: essential for a healthy scalp with antioxidant properties
B6: actively involved in protein metabolism in the body. B6 acts as a catalyst, ensuring hair follicles get enough keratin and melanin. This promotes hair growth and hair renewal.
PABA: prevents hair loss & graying hair, blocks UVB rays, improves skin issues that involve tissue buildup and hardening.
How to Take

Our bottle comes with 60 pieces with a suggested serving size of 2 gummies a day. 

The Baby Blues vitamins work best taken for a minimum of 3 months with optimal results at 6 months, but you will find continued use will continue to improve the quality of your hair.  

You may decide to continue taking beyond postpartum as a hair vitamin, moms who have done so say they have continued to see improvements in the texture and thickness of their hair.  
Shipping Information

- Ships within 1-2 business days
- Free Shipping within US
- DHL for International Shipping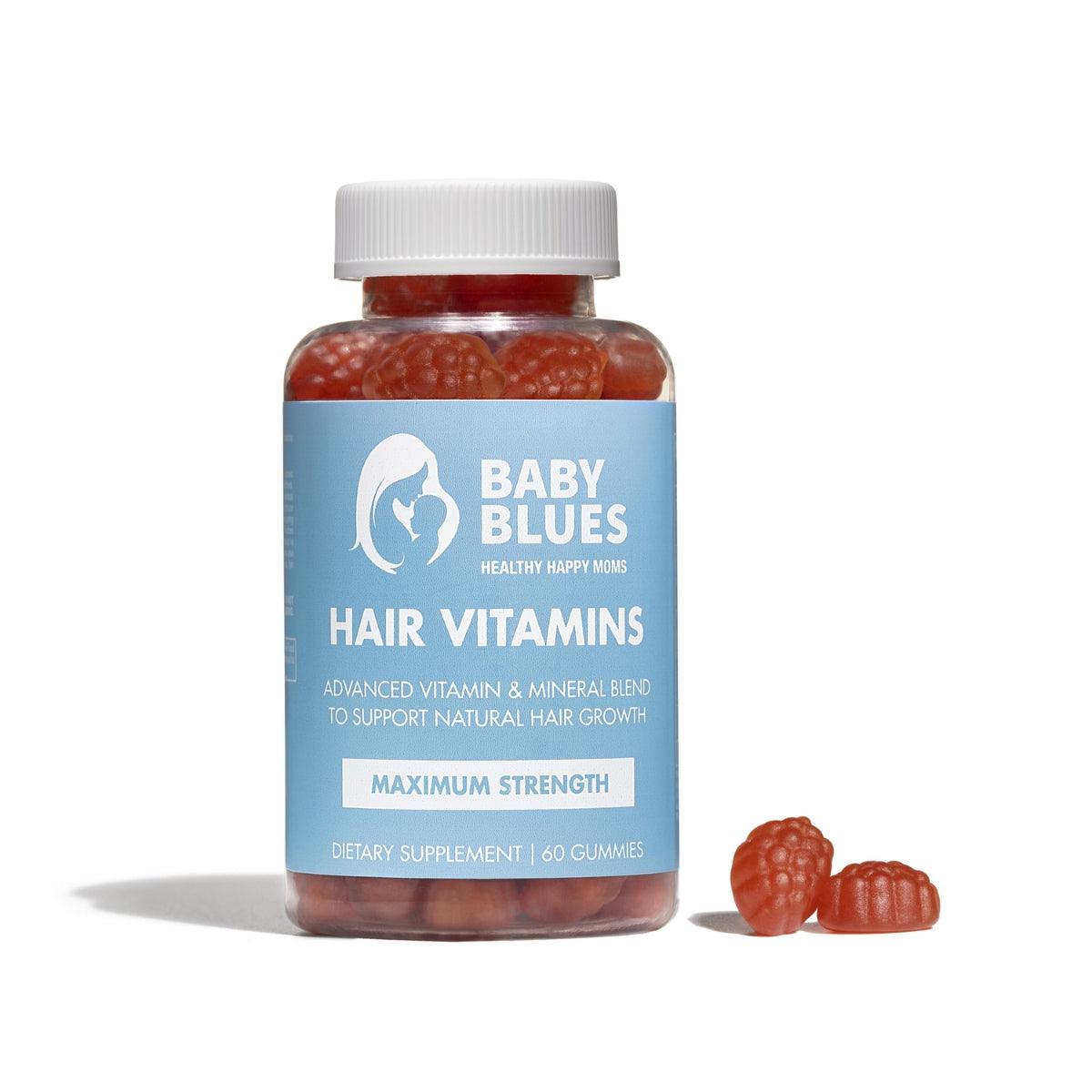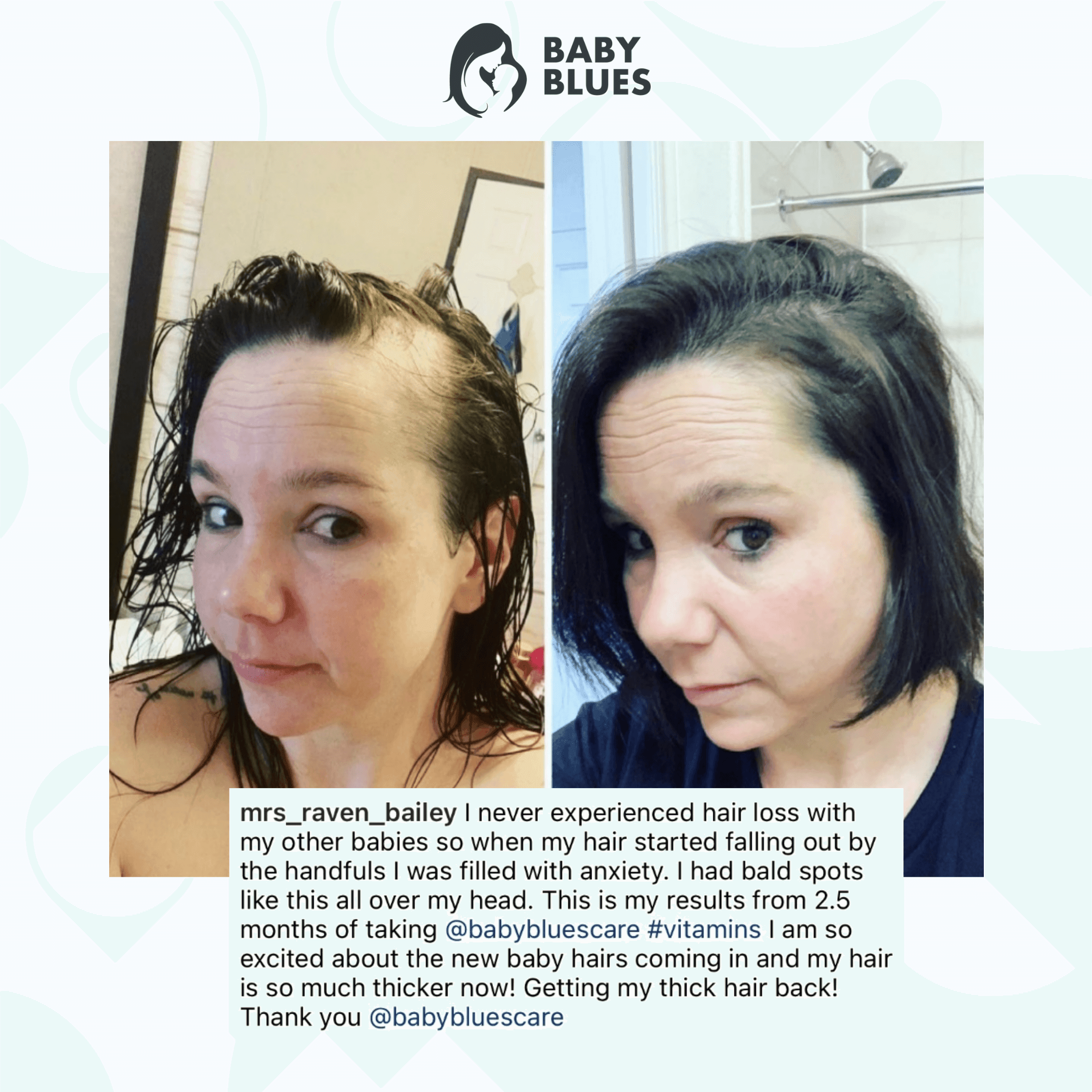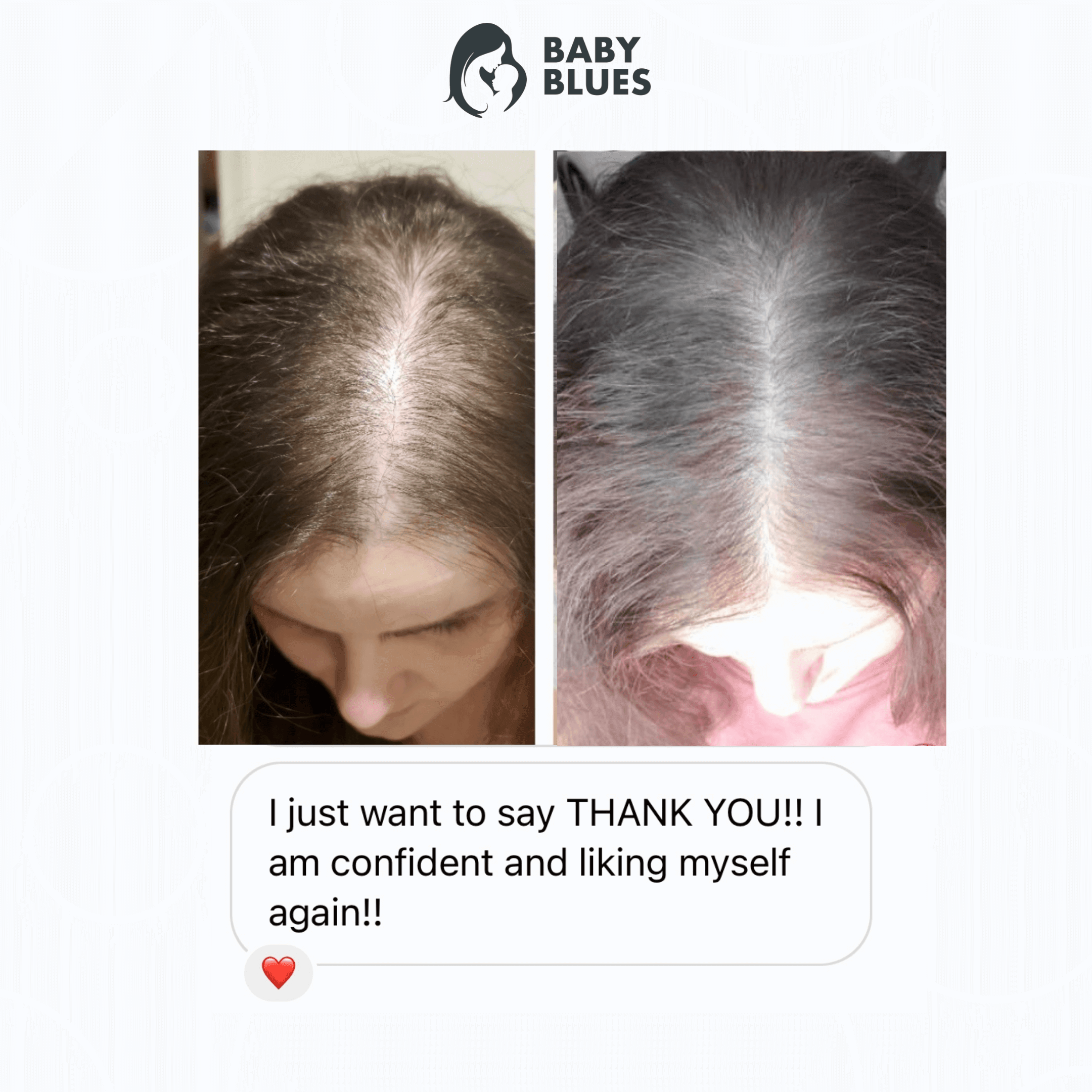 My Hair Loss Story
Postpartum hair loss also known as postpartum telogen effluvium, is the shedding of hair after giving birth due to changes in hormone levels. For some women, the hair loss is minor. But for others, it can be severe and it can be extremely distressing, especially given the physical, emotional, and psychological vulnerabilities women already face in the postpartum period. Looking in the mirror and seeing scalp staring back at me made me feel like I was no longer beautiful… 
Read My Story
What Moms Everywhere Are Saying


"Best gift for a new Mommy! I use these still now that my kids are 6 and 8 and i have gorgeous shiny hair.  My lashes and nails are healthier too!" - Jade
"GAMECHANGER! First pregnancy recovery was the worst.  Its so weird no one talks about this! My doctor never told me my hair would literally fall out in clumps.  i thought it was stress.  My hairstylist told me about babyblues , took about 2 months and my hair was back to pre pregnancy thickness. Im still taking 6 months in and my hair has grown faster than i can ever remember." - Kelly
"I wish I had a before picture but the truth is, prior to taking Baby Blues Care the last thing I wanted was to be photographed. My hair was thin, falling out and because I am a swimmer the chlorine has really damaged my hair. I've been taking Baby Blues Care consistently for the last 3 weeks and see a huge difference." -Brandy
Highly recommend, my edges thinned all the way out after having my son I used these for 30 days and you can't even tell. I'll start buying these as a bonus shower gift for friends.

JIbri Ward- Richardson
I have been using these since about 3 months pp. I am now 13 months pp and continue to take. I was losing so much hair and found this product on Amazon It slowed down the hair loss and my hair is longer and thicker than it was before having my baby. I get compliments all the time Thank you baby blues!

Nilsa Vicente
This is literally the one product that isn't a scam or letdown when it comes to hairloss! I've seen so many women post about baby hairs growing when they started taking these vitamins and it 100% happened to me too, in a month!! Im on baby #2 and I was going near bald from postpartum hairloss. After just a week of taking these vitamins, I stopped pulling out huge clumps of hair in the shower. I no longer want to cry at the sight of my hair!

Isa
With just having my third baby my postpartum hair loss was hitting hard. I decided to give the three month supply a try and this has helped tremendously. I will be ordering more to help continuing the growth!

Miriah
This is only 28 days after! I was not comfortable putting my hair up in a bun because of the post partum hair loss. Now, I'm almost comfortable enough to put it up lol. I've been taking the gummies and using a biotin oil on the scalp and I've made progress, will continue. Just be warned the gummies do have a strong guava flavor but it's not bad if you like guava!

Mariel
Thanks to Baby Blues Hair Vitamins, my hair is restored. I have experienced growth all along my hairline and now I have my hair back. It's full, soft and healthy. My hair stylist has confirmed it, too. Recently, that fact was really driven home when I cleaned my drainage screen and there was barely any hair in it. That's my new norm! I seriously wish I had a before picture of my forehead and my drainage screen, but am including my after photo here. And, I'm not finding hair all over the floor of my condo anymore.

Claudia
I never leave reviews! This product has helped my hair so much! I am not PP (had my last child 4 years ago). My bald/thinning spots have started to fill in. I've only been using these for two weeks. I'm seeing less hair loss while showering and brushing. Also losing less during the day/in between washes! I highly recommend these!

Taylor Burkhart
I believe these gummies along with rosemary oil (occasionally) saved my hair postpartum. These didn't cause any side effects and tasted great.

Abbie Hurley
Not sure if these are magic, or just absolutely wonderful. The photos show my hairline in just two weeks. After I had my daughter, I unfortunately dealt with postpartum hair loss. Thank god I found these because they helped so much! I'm not the type to post reviews but I had to for this one. These taste great and they WORK! Not a fan of how expensive they are, but I guess you get what you pay for.

Madison Ryan
Started taking these vitamins at 3 months postpartum since I was noticing significant hair loss. I took the vitamins for 1 month and I noticed the major difference. I did also use hair oil growth combined with the gummies and I believe that is what got me to this point today! Needless to say, I recommend these gummies for sure!!

Sparks
Had my baby in February and my hair loss didn't start until probably about late May. And when I say hair loss I mean HUGE amounts. I'm surprised I'm not bald. At first I paid no mind to it because I was aware this was going to happen but then the actual balding began and I panicked. First picture was in March when my hair was still in good shape, and second was when I first started taking the gummies in July. The third pic is only one month of taking the gummies. I'm flabbergasted at how fast these work. My hairline is slowly growing back and I'm definitely going to try this for 3 more months.

Susie
Wow! This is 3.5 weeks of taking this every day. I'm 5 months postpartum now. The pictures speak for themselves.

Darcy
I'm on my 3rd bottle and 3rd month of this product. I've seen definite improvement in the areas that I was really thinning in AND the loss I was experiencing as I brushed has significantly lessened. Whether it's the product or the natural hair cycle I'm not sure but it definitely didn't hurt my hair growth. Be religious about it and take it every day. The taste isn't the best thing I've ever tasted but not horrible and you get used to it. Overall I will continue to purchase!

Bea
I can finally wear my hair in a bun again without worrying about bald spots.

Harlee
Just about two months of taking this. This really helped my hair growth. Had really bad shedding from postpartum. I would definitely recommend these !

Michelle
Hair Vitamin that WORKS! | Review from Antonia Osborne