Postpartum Hair Vitamins
Regular price

Sale price

$33.00
Say goodbye to postpartum hair loss and hello to beautiful, vibrant hair with our Postpartum Hair Loss Vitamins! Created with new moms in mind, our safe and natural formula is gentle on your body while nourishing your hair from within. Experience the joy of motherhood without worrying about hair concerns. Join our community of happy customers who have already seen fantastic results. Order now and cherish those precious moments with your little one, knowing your hair is in good hands!
Product Description

Postpartum Hair Loss occurs to some degree for 90% of new moms. Just as women experience thicker hair during pregnancy due to increased hormones and estrogen levels, most will experience shedding and hair loss about three months after delivery, as those levels quickly drop.  The good news is with Baby Blues postpartum hair vitamins you have a tool to minimize the period of hair fall and accelerate new growth. See before and after photos here. 

Stress, lack of sleep, and nutritional deficiencies are a few of the factors that can affect hair health further in the postpartum period. 

Breastfeeding requires energy and uses vitamins to support the baby's growth and development.  The sharing of these vitamins with the baby can affect the mother if she ends up deficient, and be a factor in the lingering of hair shedding as well.

Continuing a prenatal supports the baby's development while breastfeeding, but does not typically provide all the essential vitamins supportive of hair health and growth for Mom.

Replenishing vitamins and minerals back into the body vital to hair health and growth is one of the most important things you can do to ensure postpartum hair loss is minimal.

With Baby Blues Vitamins we created a proprietary blend of vitamins and minerals to address hair loss and hair shedding quickly and efficiently at a time when we know you can use a boost in looking and feeling your best.  


Our goal is to restore nutrients your hair needs into the hair cycle and increase your hair growth while improving the texture of hair. To do that we've included vitamins to promote healthy and strong hair. 

This is a maximum-strength hair vitamin, packed with nutrients to slow hair shedding and improve the quality of hair health quickly. 

While made for New Moms the Baby Blues vitamin is not limited to those who have given birth.  Many of our customers have improved hair growth and stronger hair after taking our vitamin, while not being considered postpartum.


Our vitamin is soft, chewy, and delicious + Gluten-Free +Non-GMO + Gelatin Free + Lilikoi / Passion Fruit Flavored
Key Ingredients

Baby Blues is made with:

Biotin: to maintain and support healthy hair growth by stimulating keratin production in hair and increasing the rate of follicle growth. 
Collagen: to build and increase hair proteins (keratin) and strengthen the skin that contains your hair roots. This leads to longer and thicker hair.
Vitamin C:  a powerful antioxidant that nourishes the hair and helps the body absorb iron which is essential for hair growth.
Zinc and Folate: to provide essential hair nutrients and sustain healthy hair longer. Zinc  plays an important role in hair tissue growth and repair. Additionally, Zinc keeps the oil glands around the follicles working properly.
Vitamin A: essential for cell growth. Also helps skin glands make sebum.  Sebum moisturizes the scalp and helps keep hair healthy. 
B12: to promote healthy hair growth by assisting in the production of oxygen-rich red blood cells, which feed hair follicles.
Vitamin D: stimulates new and old hair follicles.  When there isn't enough vitamin D in your system, new growth can be stunted. 
Vitamin E: essential for a healthy scalp with antioxidant properties
B6: actively involved in protein metabolism in the body. B6 acts as a catalyst, ensuring hair follicles get enough keratin and melanin. This promotes hair growth and hair renewal.
PABA: prevents hair loss & graying hair, blocks UVB rays, improves skin issues that involve tissue buildup and hardening.
How to Take

Our bottle comes with 60 pieces with a suggested serving size of 2 gummies a day. 

The Baby Blues vitamins work best taken for a minimum of 3 months with optimal results at 6 months, but you will find continued use will continue to improve the quality of your hair.  

You may decide to continue taking beyond postpartum as a hair vitamin, moms who have done so say they have continued to see improvements in the texture and thickness of their hair.  
Shipping Information

- Ships within 1-2 business days
- Free Shipping within US
- DHL for International Shipping
Share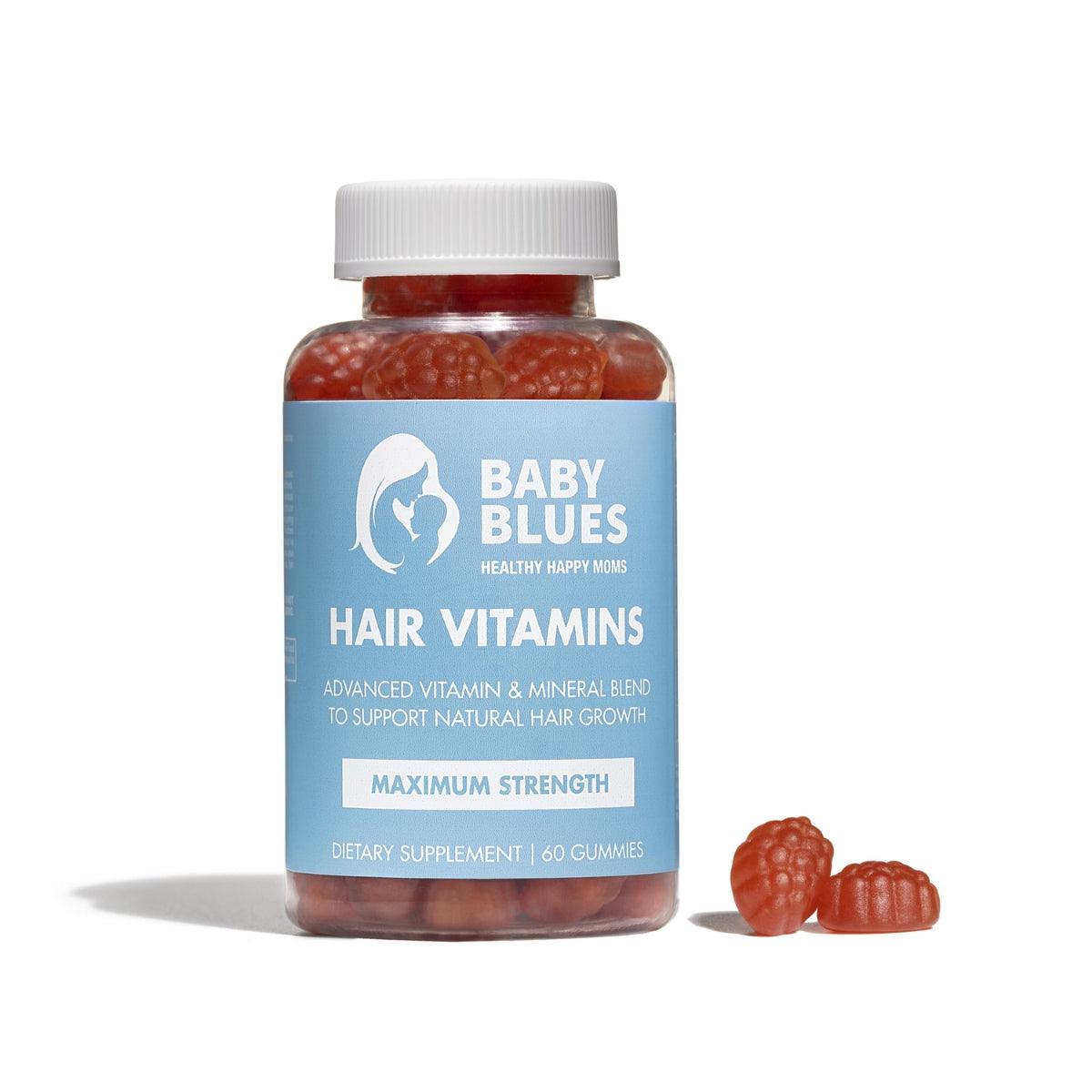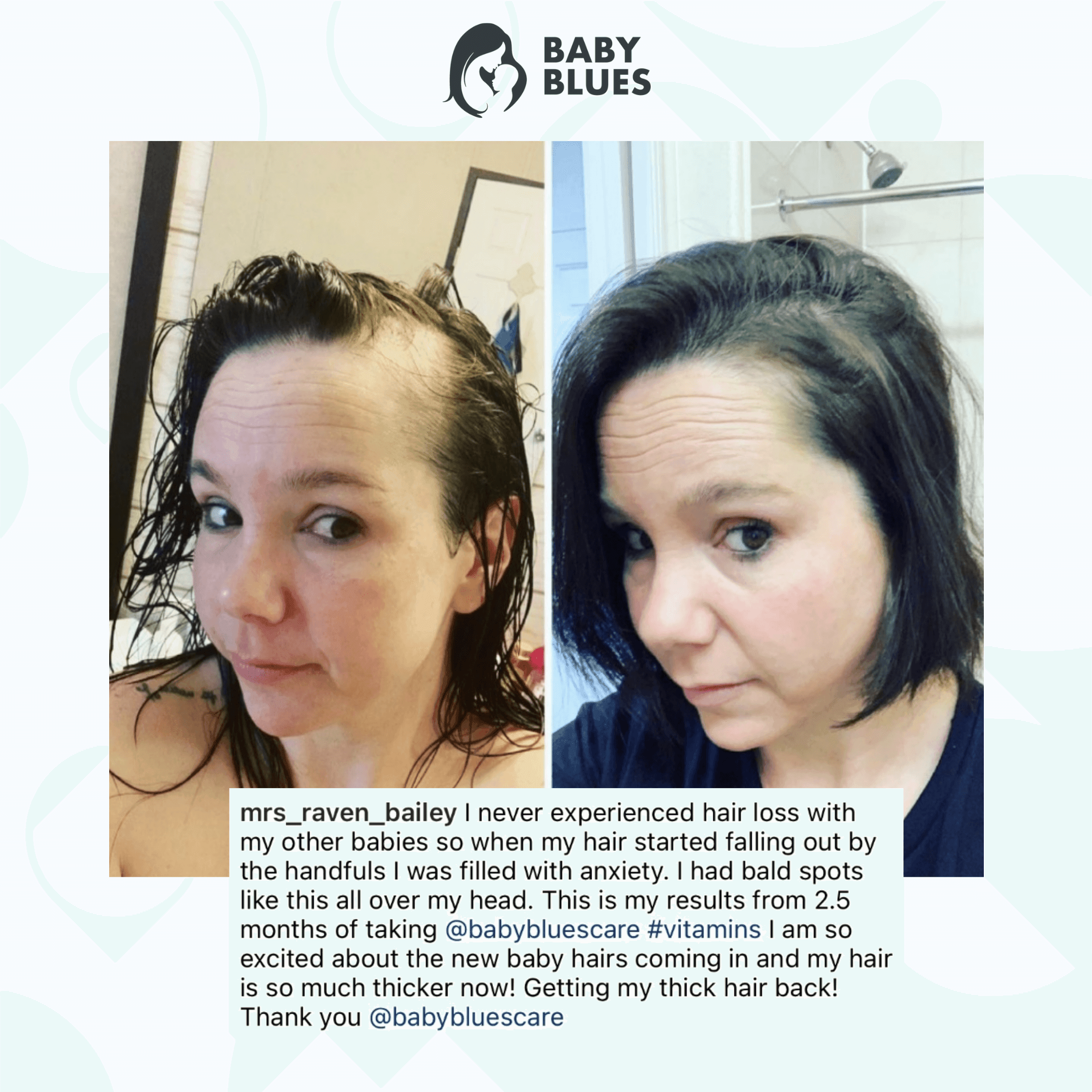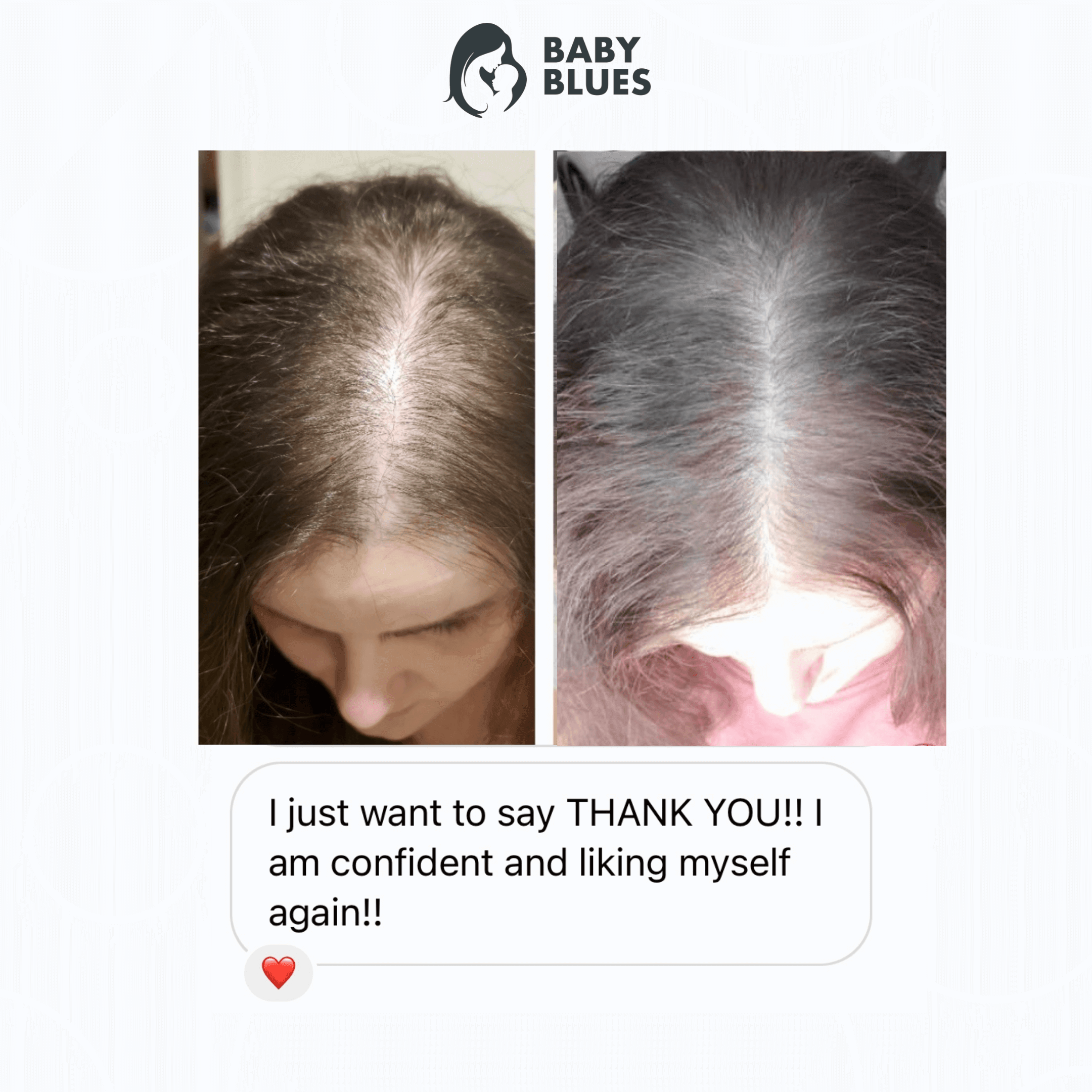 FAQs
Can I take Baby Blues while breastfeeding?

Most of our customers are breastfeeding moms.  We always recommend sharing with your doctor when adding anything to your routine while breastfeeding, as we do not know what other supplements or medicines a customer may be taking.That said, the gummies are gentle on the stomach, delicious, and do not impact milk or supply.
I have certain allergies, will Baby Blues gummies work for me?

All our allergen information can be found on our website, Amazon listings, and the nutrition label at the back of your bottle to make sure that you can check if it contains ingredients that you might be allergic to.

If you're allergic to anything, it is stell best to review with a physician before taking the vitamins.
Can I take Baby Blues Postpartum Hair Vitamins if I haven't had a baby?

Absolutely! The gummies are packed with vitamins that support and strengthen hair at any stage. Baby Blues works as a postpartum hair loss vitamin and more.  Many of our customers choose to continue taking them beyond the postpartum period as they continue to deliver great results month over month.
Follow us on Instagram!

We share tips and feedbacks from moms. Who knows, you might even win a giveaway or two?

@babybluescare

From our blog

Real life motherhood experience and tips from the founder herself!

Read more
BEFORE AND AFTER