I promise you aren't alone if you just can't run your hands through your hair right now; without taking strands along with you.
If you leave hair trails everywhere you go, and the idea of using a hair brush or taking a shower sounds frightening, .. then this blog is for you. 
Brushing your Postpartum Hair:
I read the funniest thing a few days ago. 
A medical site made the comment that new moms should brush their hair once a day; and use the extra time we usually spend on our hair-  to cuddle our baby or catch up on sleep.
Ummm what? If only time worked that way...
I can only hope the intention behind that is- we should brush minimally and with care (over-brushing can lead to breakage). 
A good tool (hairbrush/comb) during this time is important.
If you are experiencing some deficiencies on top of the postpartum shedding; this can lead to drier/more fragile than normal hair. Make sure you are taking your hair vitamins to bridge these deficiencies and make brushing easier.
Before you brush, you may want to spray a leave in conditioner or detangler to minimize pulling on the weaker strands. 
Because your hair is likely more delicate during this time period- it may be a great excuse or necessity to upgrade your hairbrush.
We are rounding out the top 5 you'll want to have at home to get you through.
With a complete selection of detangling hairbrushes for all different hair types; this is a great hairbrush to have in your bathroom.  You can even detangle wet strands gently with their brushes.
It's important to brush gently and minimally but NOT to let knots build up.  This brush helps ensure your hair is tangle-free.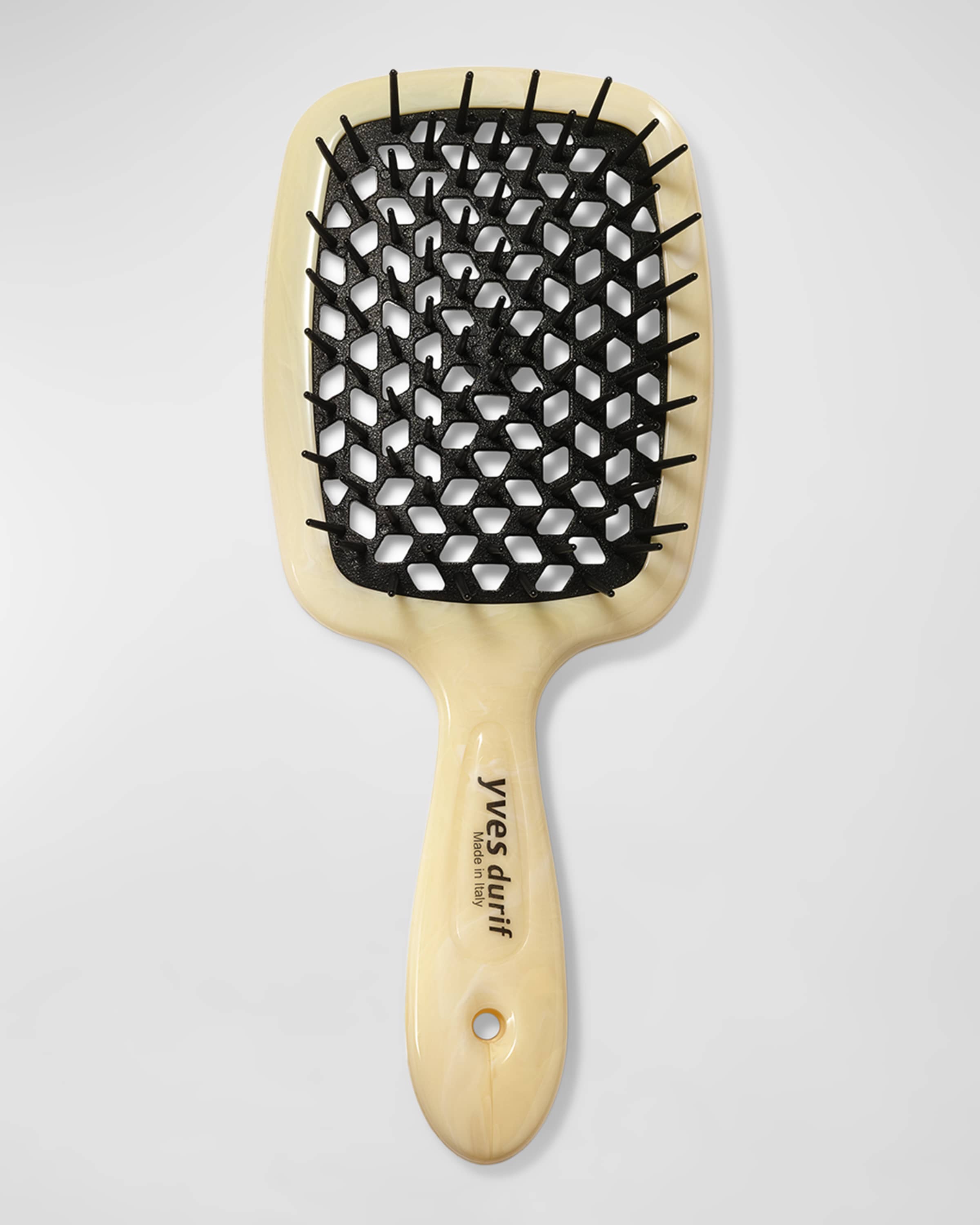 This brush is a beauty editor favorite.  It's definitely the highest priced brush on our list but IMO it lives up to the hype. 
It painlessly detangles, and the Made in Italy, vented brush makes drying hair noticeably faster and easier. 
The brush is heat resistant, and gently lifts up roots for a surprisingly perfect blowout.  I've personally had this one over a year and the quality is excellent.
The two piece T3 Detangle Duo set includes a shower comb that evenly disperses liquid products while you shower, and also a flexible bristle brush that removes knots and tangles from hair leaving it ready & smooth for dry styling. 
4. A TOOTHBRUSH: 
Hear me out here. When that new hair starts growing in postpartum (I promise it will grow back); it's going to come in extremely fine and thin.  In fact, new hair growth might feel just as overwhelming and unbearable as losing hair.  Oh, and it grows straight up.
On those fine little baby strands a tooth brush will be your best friend. 
Should you find yourself having to go out and not want to look like you've just been electrocuted: 
 "Spray the bristles of your toothbrush with a small amount of hairspray and then gently comb those fine new baby postpartum hairs into place"  You'll also find uses for your "hair" toothbrush; such as smoothing down flyaways when sporting a polished ponytail, bun, or sleek middle part.
There comes a time in your postpartum hair journey, when you are going to want to add a little volume to your strands.  As one who had never considered teasing my hair before, I found it actually can add the perfect amount of oomph without being overly dramatic.
The Texas Tease brush gives volume without damage.  It's a 50/50 combo of boar and nylon bristles; which provides just the right amount of tension. 
There are some really great youtube styling videos and reviews on this one; but basically all you need to do is:
-Use the tip of the handle to separate a two- to three-inch section at the crown and hold it straight up.
-Brush backward on the underside of the section to slowly tease the hair.
-Gently brush the top side of hair to smooth.